Introduction
Gardening is a wonderful hobby that can bring many rewards: both physical and psychological. Physically, gardening gives you the chance to be out in nature, allows you to exercise by bending, stretching, and lifting heavy objects. It also helps you build strength as your muscles become stronger over time. Psychologically, being part of the natural elements of growing things can provide a sense of peace and satisfaction as you watch your plants thrive. Gardening also helps to reduce stress as it provides an opportunity to be mindful and focus on the present moment. It allows you to be creative as well as challenge yourself with clever construction projects or landscaping ideas.
For these reasons, beginning gardeners might find it helpful to seek out advice from experienced sources – like gardening blogs written by passionate experts who know their stuff! These blogs can provide helpful tips, tricks and general information about plants and all aspects of gardening from seed planting to harvesting vegetables. Here are some of the best gardening blogs designed just for beginners so they can learn the ropes:
Benefits of Gardening Blogs
Gardening blogs are a great way for beginners to get started in their gardening journey. Not only can they provide a platform to gain knowledge, but they can also be an inspiring pastime. Gardening blogs can provide helpful tips and advice on how to start a garden, what plants are best suited for a beginner's level of expertise, and different techniques on soil management and pest control.
By reading these blogs and following the advice given by experienced gardeners, aspiring gardeners have the opportunity to learn from people who have been successful in cultivating their own gardens. Newbies can find detailed experiences and stories which will help them realize that they too could make it in the gardening world.
Furthermore, reading someone else's story or journey can encourage beginners to keep trying until they see results – whether that means another cutting successfully planted or flowers starting to bloom for the first time ever. It is incredibly uplifting to read about how somebody else has faced challenges similar to your own and successfully overcame them, providing readers with new perspectives from which they could continue learning from experienced growers.
By creating these connections with like-minded individuals who are passionate about gardening, bloggers help newbies stay encouraged throughout their growing journey as well as giving them inspiration for future projects or plans!
Top Gardening Blogs
1. Plant Life Balance: Plant Life Balance is a blog devoted to helping beginners learn the basics of garden care and plant life. The blog offers tips, tricks and advice on how to create a healthy garden environment that's eco-friendly, sustainable, beautiful and enjoyable in your own backyard. There's also plenty of helpful guidance for newbie gardeners as well as useful information about drought-tolerant plants, edible gardens, vegetable gardening and native plants.
2. Gardenista: Gardenista takes a modern approach to gardening and organises its content into distinct areas such as Outdoor Living Design Ideas, Front Yard Inspiration and Plant Focus to help users quickly get the information they need. As well as expert advice from professional gardeners and images from lush designs gardens around the world, there's also a Marketplace offering tools and decorative items for creating an attractive outdoor space of your own accord.
3. Apartment Therapy Garden Center: Apartment Therapy Garden Center was created with small-space gardeners in mind and offers creative solutions for making the most out of any limited space available outdoors. Over here you'll find clever tutorials on how to build vertical gardens or make balcony planter boxes plus other articles on topics such as nature photography, easy container gardening techniques or general green living practices at home.
Key Elements of High-Quality Gardening Blogs
Key Elements of High-Quality Gardening Blogs
Content: Quality content should be factually accurate and clear. It should accurately report information from reputable sources. Content should also be comprehensive, covering the basics of gardening in an accessible way that's perfect for beginners.
Design: Design elements should be visually appealing with a consistent, cohesive style that is easy to read and navigate. Images, graphs, and charts should clearly illustrate topics discussed in the blog posts.
Comprehensiveness: High-quality gardening blogs cover a wide range of topics. This includes beginner tips, prevention methods, treatments for common diseases/pests, how to shop for specific plants/tools, etc.
Organization: Information within posts must be logically organized in an easy-to-follow structure that allows readers to quickly find relevant information. Posts should contain external links to additional resources when appropriate.
Update Frequency: Gardening blogs should post regularly with up-to-date content so readers have reliable access to current and accurate information about the topic.
Infographic:
■ Content ✓ Factually Accurate ✓ Comprehensive
■ Design ✓ Visually Appealing ✓ Cohesive Style
■ Comprehensiveness ✓ Wide Range of Topics
■ Organization ✓ Logically Organized ✓ External Links
■ Update Frequency ✓ Regular Posting ✓ Current & Accurate
How to Find the Right Gardening Blogs for You
The world of gardening can be daunting for beginners, but with the right resources and support system, you can become an expert in no time! A great way to get started is to find blogs written by experienced gardeners who are willing to share their knowledge. There are several tools available that can help make finding the perfect blog easier.
One helpful tool is Google's Blog Search, which allows you to search through specific topics such as gardening and find relevant blogs. Another tool is Feedly, which provides thousands of industry-specific topics that can be filtered by type (e.g. technology, lifestyle) and location. If you want more focused assistance, websites such as GardenersWorld and Gardenista offer an extensive directory of certified experts whose blogs you can use as a starting point for your gardening journey. Finally, the Organic Gardening Blog directory provides access to over 2000 gardening blogs organized into easy-to-navigate categories such as container gardens and composting. With so many options available online, it's never been easier to find guides tailored specifically for beginner gardeners!
Conclusion
By engaging with fellow gardeners and sharing their own stories and experiences, readers can not only gain insight into the tips and tricks of gardening, but also learn from other people's successes and mistakes. Leaving comments on popular gardening blogs can help build a community of gardeners from beginner to experts who can support each other in their horticultural endeavors. Such an open exchange of knowledge and resources is beneficial for everyone. Through this activity, gardening prospects can quietly glean information from those more experienced and receive quality advice without the pressure of actively asking for it. Reading through comments gives readers valuable feedback from people who have used various techniques to care for their plants, as well as make sure they are up to date on any new developments in gardening technology or products that make the process easier. Ultimately, reading blogs encourages communication between beginners and advanced gardeners alike – something that will be invaluable over time in perfecting one's relationship with nature.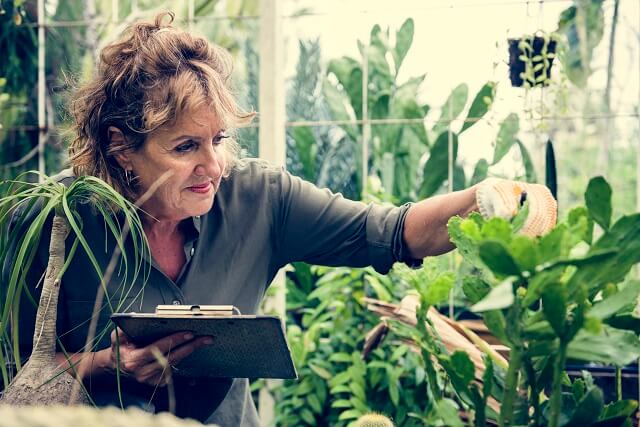 Welcome to my gardening blog! I am passionate about plants and enjoy sharing my knowledge and experiences with others. In this blog, I will write about everything related to gardening, from tips on how to get started to updates on my own garden projects.