Introduction
DIY gardening gifts are the perfect way to give someone something special and unique. Gardening gifts are ideal because they are not only thoughtful but also practical, making them the perfect gift for gardeners of all levels. DIY gardening gifts can range from personalized tools to handmade decorations from readily available materials or pre-made kits. These gifts let you express your creativity in a meaningful way and make sure the recipient feels genuinely appreciated, giving their garden a personal touch to enjoy for years to come. Whether it's a beginner gardener or a veteran green thumb, DIY gardening gifts offer something special and memorable that will be cherished for years to come.
Essential Tools For DIY Gardening Gifts
DIY gardening gifts are a great way to help the green-fingered people in your life get started with their gardening projects. Essential tools for DIY gardening gift ideas include:
• Garden gloves: Gardening gloves come in all kinds of designs, and they are an absolutely essential tool for any gardener. A good pair of quality garden gloves can help protect hands from dirt and thorns, as well as being comfortable to wear.
• Secateurs: Secateurs are important for pruning plants and making sure everything stays neat and tidy. They're also essential if you're wanting to take cuttings from plants or trees. There are all sorts of secateurs available that range from simple hand-held models up to large electric trimmers.
• Shovels/Hand Trowels/Rakes: No matter what type of project a gardener is taking on, shovels, trowels, and rakes will always come in handy! Investing in a good quality set that won't break or wear down quickly can be invaluable when it comes to completing those hard digging jobs or fine weeding tasks.
• Pruners: For larger cutting jobs pruners can be incredibly helpful. Pruners can make cutting branches, shrubs and hedges easier, while helping them maintain their shape and form so they look just right.
• Watering Can or Hose Attachment : Watering is an integral part to gardening, so gifting a watering can or hose attachment would be a wonderful diy gift idea especially if the gardener is just starting out. This will allow them to easily water their plants without having to lug heavy buckets around the garden!
Ideas for Customizing DIY Gardening Gifts
One way to customize DIY gardening gifts is by personalizing them with the recipient's name or initials. For example, you can make customized planters or pots by stenciling the recipient's initials onto them. You could also paint a sign with their name on it, and add decorations such as a hummingbird feeder that they can hang in their garden. Paintbrushes and other gardening supplies can also be personalized by making labels such as "Joe's Garden", or simply with their initials. If the recipient is a fan of flowers, handmade flower frames are another great idea; these can be made from custom shaped woods and decorated with various textiles, paints, ribbons etc. Another unique idea is to make seed packets; fill each packet with different seeds of your choice, then use stamps or printables to give them a beautiful design, along with instructions on how to care for the plants. Finally, why not make matching gardening gloves? These can be purchased inexpensively and decorated using fabric paints in colorful designs – perfect for budding gardeners!
Varieties of Suitable Plants for DIY Gardening Gifts
When selecting plants for DIY gardening gifts, it is important to choose species that are suitable for the person's preferences. For the beginner gardener, varieties of low maintenance shrubs such as lavender, hydrangea and aloe vera are great options. For those with a fondness for flowers, vibrant blooming plants like daffodils, tulips and roses would be appropriate gifts. Orchids in particular make excellent gifts as they come in a range of colors and sizes and look very impressive with minimal care required.
For green thumbs who already have an existing garden display, succulents like cacti or jade plants offer beautiful low maintenance additions while herbs like rosemary and basil add fragrant flavor to any outdoor space. Vegetables such as tomatoes, peppers or squash could also be planted if the recipient has a larger outdoor space. In addition to traditional selections of plants, thoughtful gardeners may opt for bonsai trees which bring elegance and sophistication to any outdoor setting. Each type of plant offers something unique for every level of gardener; from easy to grow cacti to show-stopping roses, there are many varieties to choose from when shopping for DIY gardening gifts!
Tips for Creating Themed DIY Gardening Gift Baskets
When creating themed DIY gardening gift baskets, start with a container and fill it with gardening-themed items. If the recipient enjoys tending to flowers, include items such as gloves, pruning shears, seed packets, bulbs, or trays of plant starts. For vegetable gardeners, consider adding tools such as trowels and soil tests; bags of compost and fertilizer; a variety of seeds; trellises for vining crops; small biodegradable pots for starting seeds indoors and much more. You can complete the basket with additional useful supplies like hoses, watering cans or sprinklers, among other items. Get creative by adding homemade touches such as handmade potting soil recipes or personal notes about your favorite gardening projects. When all is said and done, you'll have created an extraordinary gift that any green thumb would treasure!
DIY Gardening Kits and Ideas for Beginners
For anyone looking for the perfect DIY gardening gift, a gardening kit is an ideal start. A basic beginner's kit should include essential items such as seeds, soil, fertilizer, and garden tools like shears. Additionally, a set of organic gardening books or quality online resources can help introduce the gardener to various concepts related to organic and sustainable gardening. Pots filled with a selection of herb and vegetable seedlings are also great gifts for beginners that give them something valuable to start their gardens off with. For those who think outside the box, consider making up a customized toolkit such as a kneeling pad with work gloves, trowels and other useful garden tools that can come together in one stylish pouch. If on a budget, items like flower and vegetable seeds already packaged in pretty jars make excellent gardening gifts that won't break the bank. Gardening aprons also make fun and practical gifts for green thumbs as they are both useful and cute. Whatever DIY idea you choose or invent yourself, there are sure to be plenty of tools available in your local hardware store or online shop to get you started.
How to Decorate DIY Gardening Gifts for Special Occasions
When shopping for a special occasion, nothing quite beats the feeling of giving a top notch DIY gardening gift to someone you love. There are so many creative DIY gardening ideas that can add a unique touch to any gift. For example, for a special birthday or anniversary, consider presenting your loved one with a ceramic plant pot with their initials painted onto it. You could also assemble an assortment of flower bulbs and provide instructions on how to plant and grow them.
For more seasonal events such as Mother's Day or Father's Day, creating specialty planters is always a great idea. Put together decorative containers filled with plants native to the recipient's area and use matching colors to enhance the appearance. You can even take it one step further by adding personalized messages or quotes throughout the gift packaging. With some colorful wrapping paper and bakers twine, you can create memorable packaging that will make your special DIY gardening gift stand out from all other presents.
Creative Wrapping and Shipping Ideas for DIY Gardening Gifts
One of the best parts about buying a gardening gift for someone is wrapping it and seeing the surprise on their face. When purchasing DIY gardening gifts, there are multiple ways to present them as a unique surprise. To create a special presentation, one can wrap the items in newspaper or burlap and then tie them with ribbon or twine. If shipping items, you can use parchment paper for wrapping individual gifts and then secure them with packing materials like shredded newspaper or bubble wrap. For added surprise, you can add some seasonal elements like pinecones, leaves, or snowflakes to personalize each package. Alternatively, if you have access to a printer, you can use decorative scrapbook paper and make your own gift tags to accompany each present. All of these creative ideas will help make your DIY gardening gifts stand out as special keepsakes!
Conclusion
DIY gardening gifts are the perfect choice for friends and family members alike who have a green thumb. Not only do DIY gardening gifts show thoughtfulness, but they also give the recipient an opportunity to express his or her creativity. The gift will be something unique and special, sure to bring pleasure throughout the growing season. Best of all, these gifts can be personalized with items that can be found in your own yard or local nursery – like flowers, soil, nutrients, garden tools and plants – to create meaningful and unique presents that are as beautiful as they are practical. For those on a tight budget, there are plenty of cost effective solutions too! The possibilities are endless when it comes to creating a DIY gardening gift that is sure to bring delight for years to come.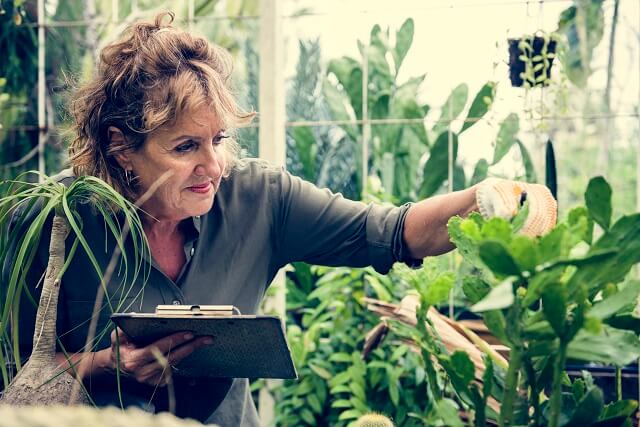 Welcome to my gardening blog! I am passionate about plants and enjoy sharing my knowledge and experiences with others. In this blog, I will write about everything related to gardening, from tips on how to get started to updates on my own garden projects.