Introduction
Gardening Shed Plans is the perfect way to build the perfect outdoor storage solution for your home. Whether you want a simple design for a tool shed or something more elaborate, there are a variety of options available to choose from. With the right plans and materials, you can make a garden shed that will add both beauty and functionality to your outdoor living space. To help you get started with your project, here are some inspirational examples of garden sheds that will help get you excited about creating one: From quaint rustic designs with old shutters to modern take on potting sheds made with white washed wood, metal panels and exposed beams – the possibilities are endless! You can choose from traditional garden shed styles like Victorian style cottages, colonial red barns, or even oriental-influenced temples. If you're feeling more adventurous then why not create something completely unique; think tree houses, fairy-tale looking castles and small wooden cabins in the woods.
Understand the Basics
When it comes to selecting materials for your gardening shed, there are many options available. Different types of woods have different advantages and disadvantages, depending on the purpose of the shed and where it will be located. Cedar is a popular option as it offers strength, durability, and resistance to weathering, insects, and decay – plus it's attractive visually. Pressure-treated lumber is another option that is moisture-resistant and can stand up to outdoor elements for many years if properly cared for. Other options like redwood or pine offer good insulation properties, but may require more maintenance over time due to their lower resistance levels against water penetration. As far as building hardware goes, galvanized steel fasteners are the way to go as they provide strength and corrosion protection in any weather conditions.
Steps to Building a Garden Shed
1. Determine what type of shed you need: Consider factors such as size, cost, and materials. Visit your local hardware store for ideas or consult online tutorials and videos.
2. Scout a location for the shed: Look for an area in your yard that will provide good drainage and insulation from the sun and other elements, ensuring durability over time.
3. Measurement precision: Starting with the area's perimeter, plot out your garden shed's measurements with maximum accuracy to ensure it fits within your designated space.
4. Pick up supplies: Depending on the garden shed style, collect required building materials accordingly (wood, nails, screws etc).
5. Assemble framework: Follow step-by-step instructions to assemble the walls, flooring and roof of the structure following safety guidance at all times. Helpful video tutorials can be found here https://www.youtube.com/gardenersheds .
6. Install windows and doors: Follow product specifications to install these features securely in the frame and paint if desired for extra weather protection (https://www.wikihowhomeandgarden If you have window panes or top glass choose appropriate glazing silicone sealant).
7. Cover roof starting at eaves : At this stage use water-resistant material like pressure treated board panels or asphalt shingles; refer to manufacturer's instructions while you repeat steps on sides in order to complete waterproofing works on all angles (check https://rainydayguideshedroofingfor more practical advice).
8 Preserve roof edge ventilation : To maintain proper warmth levels inside –install high quality protective fascia boards around vents then add felt layer underneath roof covering above starting section of main frame (watch this tutorial about felt installation to get some visual clarity https://www!!feltinstallationvideo).
9 Finishing touches : Add final details such as hooks & shelves after adding appropriate foam/rubber seals along joints in line with general layout plan of interior objects then finish off by painting walls for a pleasant glance (take a look at this website for color matching advice http //exteriordecorationscolors).
Design Considerations
One type of gardening shed plan is a small, freestanding tool shed best suited for tight spaces. This would feature tall walls with a side door and one or two windows for ventilation. These are often used for storing garden tools, lawn mowers, large sporting equipment and other items.
Another style of garden shed plan is a kit structure, which typically can be assembled using wood panels pre-cut at the store. They're perfect for smaller designs that don't require large amounts of space; they make ideal workshops as well as garden sheds.
Finally, larger buildings such as barn-style sheds offer plenty of space to store various outdoor items and even create compartments in order to organize them better. Barn-style sheds also provide ample headroom to install loft storage above should you require extra storage without taking up too much floor space.
The benefits of each design depend entirely on what you intend to use the garden shed for and how much space you have available in your backyard. Freestanding tool sheds are great if you're short on space while kit structures may be preferable if you need something quick and easy to assemble. Lastly, the barn-style shed will give you the optimal amount of room if you need plenty of storage capacity or if you'd like additional headroom for loft compartments in order to maximize your available storage area.
Choosing Materials
When it comes to building a shed, it's important to ensure you choose quality materials. This is because the overall durability and longevity of your shed will depend on the quality of materials that you use. Poor-quality wood, for example, can easily rot or warp over time or may not be strong enough to hold up the weight of the structure. Additionally, if the shed is exposed to the elements such as snow and rain, high quality paint and treatment are essential for preventing decay, warping, rusting and rotation due to moisture buildup. It's also important to make sure that any screws or nails used are rated for outdoor use in order to prevent corrosion over time. Finally, consider investing in more expensive fixtures such as hinges and locks which can result in a longer lifespan for your shed compared with cheaper alternatives that could easily become damaged by continuous wear. In short, spending a little bit extra on quality material now can save you from costly repair work down the line.
Where to Find Quality Shed Plans
An online search for a set of gardening shed plans can be more beneficial if a few key steps are taken first.
1. Research reputable websites specializing in providing shed plans. Websites such as My Shed Plans, Home Outdoor Shed Plans and 1000's of Woodworking Projects offer quality plans that include the right materials lists and detailed instructions to aid in successful completion of a shed project.
2. Carefully read customer reviews: Reviews can provide good insights into whether or not the provided plans are truly effective. It is important to note if there were any difficulties that other users encountered and how customer service handled them upon reaching out for assistance with their projects.
3. Ask for third-party opinion: Talk to fellow DIY enthusiasts that have completed similar projects, or if available join forums or chat rooms where others with the same goal share tips about the plan design options and building process. The insight from those with experience may help direct you to the highest quality plans at a reasonable price point.
4. Assess accuracy of pieces list: It is essential to confirm that the material required for your project matches what is included in your chosen plan's material list before beginning work on your garden shed project, so review it carefully and make sure no item is missing from what you need to complete your project successfully
Tips for the DIYer
One of the most common mistakes when it comes to building a shed is failing to measure and cut all the lumber accurately. To ensure that your plans are followed correctly, measure twice and cut only once. Also, make sure to calculate the dimensions for each component before cutting or nailing any pieces together. Additionally, ensure that you have purchased enough materials for the entire project. Not overbuying will save time and money in the long run. Another mistake may be not double-checking aligned interior walls and corners while constructing your frame. Doing this ensures greater accuracy when fastening walls together and provides a more straightforward installation of wall coverings such as plywood panels or siding materials. Lastly, an easy way to avoid problems during construction is to use galvanized nails, screws, and bolts instead of regular ones to prevent rusting or corrosion over time. Taking these tips into consideration will help guarantee that your gardening shed plans come out just as intended!
Conclusion
Garden shed plans provide a great way to create a storage space for all of your landscaping supplies, gardening tools and other materials. When working on your shed plans, it's important to consider factors such as ventilation and sunlight, sturdy material options, user-friendly design and quality construction. To get the most out of your shed plans when designing and building the structure, consult with local codes and ordinances for any permitting requirements. Additionally, there are a variety of helpful online resources related to garden shed plans and backyard structure construction that provide information about designing, building and maintaining sheds. Browse through different designs for inspiration and use tutorials to help you along in the process. Once your shed is built, enjoy its convenience by organizing it so you can easily find whatever items you need while also protecting them from the elements.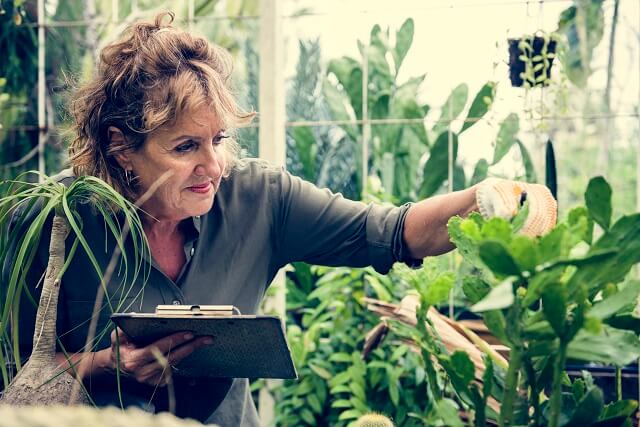 Welcome to my gardening blog! I am passionate about plants and enjoy sharing my knowledge and experiences with others. In this blog, I will write about everything related to gardening, from tips on how to get started to updates on my own garden projects.