Introduction
Fiskars is an iconic gardening tools brand that has earned itself a place in the hearts of amateur gardeners, landscapers, and outdoor enthusiasts around the world. They are widely known for producing superior quality tools that offer strength, durability, precision, and performance beyond measure. From sturdy spades and knives to a wide range of pruning shears and weeders – Fiskars have everything needed to make any job easier. In fact, their slogan "Work Smarter Not Harder" couldn't be truer here!
The benefits of using Fiskar tools are abundant because each product is designed with the user's comfort in mind which makes them safe as well as efficient. Their handles are made from comfortable materials that mold to the hand for better ergonomics while also minimizing fatigue during long tasks. Moreover, their carbon steel blades come sharpened from the factory making it easier to draw clean lines through hard soil and get the job done faster. Additionally, many of their products boast features like extended reaches or telescoping handles giving users more flexibility than anything else on the market.
Investing in Fiskars gardening tools will not only guarantee you quality but also make life easier out in the garden. Ultimately this legendary brand stands out amongst its competitors due to its splendid array of durable products that make any task less tedious while delivering precision performance every time!
Fiskars Strength, Durability, and Versatility
Fiskars is one of the leading manufacturers of garden tools, offering consumers an assortment of options to help make their jobs easier and more efficient. Their tools are known for their strength and durability as well as their versatility in performing multiple tasks. Fiskars hand tools such as shovels, rakes, hoes, pruners and loppers are designed to resist corrosion and last through years of use with minimal wear or tear. They also feature ergonomically designed handles for optimal comfortability and grip even during extended use. With their razor-sharp blades and sharpened tips, Fiskar's shears have been lauded time after time for their dependable ability to cut through tough branches without the need for excess effort. Additionally, they offer deck rakes, bi-directional hoes and cultivators that can be used to shape soil and vegetable beds easily and quickly. Furthermore, most of Fiskars tools come with a lifetime guaranteed warranty that makes them ideal for long-term gardening projects.
Fiskars' Innovative Ergonomic Design
Fiskars has long been known for providing quality and reliable gardening tools, but what sets them apart from the competition is their innovative ergonomic design. Fiskars provides tools which are intuitively designed with the user in mind and provide improved capabilities over traditional garden tools. Each tool, no matter how large or small, is strategically designed to utilize leverage and leverage points to reduce physical strain on the user. Additionally, they come with ergonomic handles which make gripping even heavy-duty products a breeze. As a result of this thoughtful design philosophy, Fiskars' kitchen and garden tools offer enhanced performance while decreasing fatigue associated with performing tedious tasks such as weeding and digging. In addition to improved comfort while using Fiskars products, they also greatly reduce fatigue caused by hand cramps due to their thoughtfully designed rubberized grips. By making gardening activities easier on their users' bodies, Fiskars makes outdoor work fun and enjoyable instead of arduous and uncomfortable.
Comprehensive Selection of Tools to Suit Any Gardening Need
Fiskars provides a comprehensive selection of tools to suit any gardening need. From essential everyday tools such as spades, trowels and rakes, to specialized pruners and shears, they offer high-quality products designed to make gardening easier. Dozens of different sizes and types are available, so it's easy to find just the right tool for any job. Whether you're a seasoned gardener or first-time novice, Fiskars has everything you need to get your hands dirty without a worry. Their most popular product range is their'PowerGear' technology that increases cutting power and takes the strain out of everyday gardening tasks. Fiskars also offers ergonomic handles which make gardening more comfortable over long periods of time by reducing hand fatigue and providing a sure grip. Furthermore, all Fiskars tools come with an industry-leading lifetime warranty for peace of mind on your investment in quality garden tools for years to come. They even have a range of tools specially designed for children, making it easier and safer for kids to get stuck into the garden with their own set of tools. So if you're looking for garden tools that will last the distance no matter what kind of task you throw at them – look no further than Fiskars!
Simple and Convenient Maintenance Tips for Fiskars Gardening Tools
1. Give your Fiskars gardening tools a regular cleaning after each use to prevent soil and dirt build-up. Wipe away any dirt, debris, and grime with a damp cloth to keep them in top working condition.
2. Regularly sharpen the blades of your Fiskars tools such as pruners, shears, and knives to maintain their sharpness and cutting power. Use a quality sharpening stone or sharpening file specifically designed for garden tools to maintain the required angle on the beveled edges.
3. Check all moving parts (such as scissors and ratchet mechanisms) on your Fiskars tools regularly to ensure they are working properly. Contact Fiskars customer service if you need assistance for repairs or maintenance tasks that require more advanced skills than what you possess at home.
4. Keep your steel Fiskars garden tools well-oiled using vegetable oil or similar lubricant, particularly when storing them for extended periods of time. This will help preserve their rust resistance qualities by preventing surface corrosion due to humidity or other weather elements.
5. Avoid exposing your Fiskars gardening tools to extreme temperatures by storing them in cool dry places or covered racks during non-use periods, such as wintertime in northern climates or locations where rains are frequent throughout the year.
The Advantages of Fiskars' Lifetime Warranty
Fiskars is well-known in the gardening community for providing quality tools which come with a lifetime warranty. Not only do Fiskars' tools provide a reliable and efficient way to tackle your garden jobs, but also come with the peace of mind that you have a lifetime guarantee of usage. No matter how long it takes, or how hard you use Fiskars' tools, you can be confident knowing that if any part fails you can get a replacement quickly and easily. The lifetime warranty gives users the confidence to use their Fiskars tools without fear of them breaking during tough projects. Even if a particular gardening job requires heavier usage than normal, the lifetime warranty ensures that any damage will be covered.
Furthermore, Fiskars makes it easy to take advantage of their lifetime warranty; they have online forms in which customers can fill out in order to receive replacement parts or even an entirely new tool if warranted. Additionally, they can help walk customers through issues they may have while using their products as well as provide troubleshooting tips so future mistakes are avoided. This level of customer service and support is something that is rarely seen in other brands, especially for garden tools with warranties elsewhere usually tend to be limited to a year or less. Ultimately, buyers of Fiskars' products know that their investment will last them for many years to come due to the extra assurance provided by the company's lifetime warranty policy.
Recommended Fiskars Gardening Tools Sets for Beginners
Fiskars is a renowned brand for making high-quality gardening tools. If you are just starting out with gardening, it can be difficult to know what tools you need and which ones will best meet your needs. Fiskars has sets of essential tools that are perfect for beginners, helping to make their gardening jobs easier and more efficient.
One popular set by Fiskars is the 393981-1002 PowerGear2 Pruning Combo Set. This includes a durable lopper, a trimmer and a bypass pruner, all of which feature Fiskar's patented PowerLever technology so they require up to 50 percent less effort than regular garden tools. The blades are also ultra-sharp, making cutting through branches and stems a breeze. In addition the ergonomically designed handles give users greater comfort and control when using the tools in tight spaces.
Another great option from Fiskars is the 7884U Garden Multi-Snip Set. This set comes with four handy little garden snips for different gardening tasks like trimming flowers or edging grasses eliminating the need for multiple sets of shears or scissors . They have hardened steel blades with patented snap-action design , allowing them to open with one hand for optimum convenience . The handles have an ergonomic shape making them comfortable to hold when controlling highly precise cuts over prolonged periods of time .
Whether you are a beginner or experienced gardener, there is sure to be a Fiskars compound set to meet your needs!
Tips on Avoiding Common Mistakes When Buying Fiskars Gardening Tools
1. Know what types of tools are available. Fiskars offers a wide range of garden tools, including hand tools, power tools, and animal care supplies. It's important to know the specific product you're looking for before purchasing so that you don't end up with something unneeded or ill-suited for your needs.
2. Read reviews before buying products. Before investing in any tool, it's important to read up on the experiences of users who have tried the product to get an idea of its capability and performance.
3. Make sure to check the warranty policy of your chosen product. This can help protect against defective or malfunctioning equipment and provide assurance that equipement will be replaced in the event it does not perform as expected with normal use.
4. Determine which items you need based on your gardening activity level and goals For example, if you're just starting out in gardening then a set of basic hand tools may work better for you than a more expensive power tool system that may be more difficult to use if you don't have experience yet with advanced equipment operations.
5. Consider getting an extended warranty when possible depending on the purchase price . Longer warranties offer an extra layer of protection against needing costly replacements for faulty equipment down the line if problems arise after regular use has worn down manufacturer issued guarantees over time
Conclusion
Fiskars are a great choice for gardeners as they produce quality, hardwearing equipment that is well suited to the demands of a wide range of gardening jobs. Their selection of tools provides great value and a variety of options to suit any gardener's needs from basic gardening tasks to complex landscaping projects. What's more, their bright colors and ergonomic handles make them comfortable and easy to use. With Fiskars' reliable tools, your garden maintenance and creation will be effortless and enjoyable.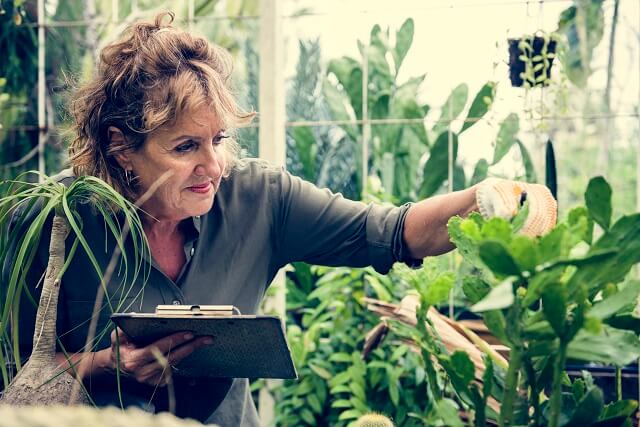 Welcome to my gardening blog! I am passionate about plants and enjoy sharing my knowledge and experiences with others. In this blog, I will write about everything related to gardening, from tips on how to get started to updates on my own garden projects.