Introduction
Starting a gardening business can be a fulfilling and profitable way to pursue your love of plants and the outdoors. This type of venture requires a combination of knowledge, skill, and hard work—but it can also provide many rewards in both financial and personal terms. Depending on your individual circumstances and ambitions, running a gardening business may have some drawbacks as well.
To ensure success, prospective gardeners must understand the necessary steps when beginning this type of venture. These include assessing start-up costs, developing a viable business plan, understanding relevant regulations, marketing services in an effective manner, and finding reliable suppliers for supplies. Additionally, a gardener should devote sufficient effort to obtain necessary qualifications or certifications required for certain types of work-such as pesticide application or tree care. Understanding the pros and cons specific to the landscaping industry is essential in addition to these steps; taking time to familiarize yourself with local marketing dynamics, customer expectations, and labor laws may ensure you have an edge over the competition.
Research and Planning
Research and Planning are essential components of running a successful gardening business. With good research and planning, you can identify new opportunities, assess market conditions, and plan for success.
Steps for Conducting Research and Developing a Business Plan:
1. Identify your target market – who will you cater to? Consider factors such as landscapers, homeowners, businesses, etc.
2. Analyze industry trends – keep tabs on the industry-wide trends in order to stay competitive and up-to-date.
3. Examine competition – what do other established gardeners offer that you do not? What unique services or products could help you stand out?
4. Map out your operations – what processes are necessary to deliver satisfactory services? Create job descriptions for employees if applicable
5. Set goals – create short-term and long-term objectives that reflect desired progress over time
6. Assess financial needs – consider financing options such as investors, grants or loans before setting a budget
7. Develop an action plan – once the business plan is complete outline specific steps needed to launch your business
Common Mistakes To Avoid:
1. Not doing enough research – without in depth knowledge of industry trends you may struggle to compete with established businesses
2. Overlooking legal considerations and procedures -establish boundaries early by registering your business with the appropriate tax credits, licenses, permits etc., as required by your state and municipality
3. Not accounting for unforeseen costs – allocate funds for unexpected events and shared resources such as marketing materials or office supplies
4. Ignoring customer feedback – listen to customer feedback because customers' insights can inform any adjustments at the start of a new business venture
5. Making assumptions about future demand – be realistic when forecasting both sales and expenses or else financial issues may arise in future
Financing
Financing is a crucial element in starting a gardening business. For those who lack the necessary funds to establish a business, there are several potential sources of financing available.
1. Personal Funds or Savings: The most common and often overlooked source of funds for entrepreneurs is their own personal finances and savings. Use of your own money is beneficial as it enables you to maintain full control over the direction and operations of your business without having to pay back lenders or investors.
2. Small Business Grants: Federal, state, local government and nonprofit organizations frequently offer small business grants that award money not only to start up businesses but also expansion projects, technology upgrades, agricultural development initiatives and marketing activities. Grant amounts can range from $500 – $50K depending on the needs of the particular grant program you are applying for.
3. Crowdfunding: Many start-up businesses have raised capital through crowdfunding platforms such as Kickstarter and Indiegogo which allow individuals to accept small contributions from a large group of people, or "crowd", that wish to invest in an innovative idea or service offered by an individual or business.
4. Bank Loans/Loans for Women Entrepreneurs: Banks often offer special loans for female entrepreneurs with more flexible requirements than regular loans such as lower interest rates, longer repayment periods and reduced fees/collateral requirements (depending on the type). Additionally, other game-changing loan opportunities exist specifically designed for women including SBA Women's Business Centers loan programs for women interested in starting their own business venture but do not meet traditional financing criteria due to insufficient collateral capacity/evidence of creditworthiness.
5. Angel Investors: Angel investors are wealthy individuals who provide capital in exchange for equity prior to its initial public offering (IPO) – offeing another great options for those looking to launch their business with outside investment help but remain in complete ownership control over their venture while raising the necessary money needed..
When seeking out funding make sure you do extensive research into all potential sources so you can find what works best for your specific situation! Additionally, prioritize getting together all documents needed before beginning your loan application process as this will increase chances of approval significantly!
Equipment and Supplies
To properly run a gardening business, you will need to make sure you have the right equipment and supplies. Some of the necessary tools and supplies you will need include pressure washers, power rakes, mulchers, soil mixers, sprayers, hose reels and other hand tools such as rakes and shovels. It is important to invest in quality tools that can last for many years – going for cheap-quality items can cost you more money in the long run. You should also consider investing in protective clothing such as gloves and boots to ensure yourself safety when working with sharp or hazardous objects that may be scattered within a garden environment.
When shopping for your equipment and supplies , it is important to look around for the best deals possible without compromising on the quality of the products. Source out online sites or brick-and-mortar stores where they offer discounts or bulk pricing deals on larger purchases; this could save you lots of money without compromising on quality. Additionally, you may be able to source second-hand tools or supplies from garden stores who are disposing of their older stock at discounted prices – doing so again will reduce costs but always make sure you buy items in good condition that are still suitable for their purpose.
Hiring Employees
Hiring Employees:
When starting a gardening business, it is important to consider hiring employees to help get the job done. It is especially essential to recruit reliable and experienced workers who can work efficiently and according to the company's standards. When narrowing down potential candidates, employers should conduct background checks as well as interview each person to ensure they are suitable for the job. Additionally, it is beneficial to provide employees with a job description that outlines their responsibilities in detail, such as their specific duties, working hours, etc. Once hired, employers should set up a system of checks and balances such as regularly monitoring the performance of their staff and providing clear feedback on how they can improve. Lastly, it is essential for employers to create an open line of communication between them and their employees; this will help ensure that both parties are on the same page in regards to expectations from one another.
Top Tips For Working with Independent Contractors:
Before embarking upon this type of working relationship, owners should understand how independent contractors operate. First off, before hiring any independent contractors, it is highly recommended that companies set out contractual agreements or other contractual documentation which specifically spell out the terms/conditions between both parties prior to commencing work; this helps protect your business if there's ever a dispute or disagreement involving performance or payment issues. Secondly, keep detailed records about all aspects of your relationship with these types of workers (hours worked/amount paid/kind of tasks assigned). Lastly, make sure that you have access to liability insurance when filing taxes for these independent contractors –this will help cover the company in case of accidents or injuries on-site.
Marketing and Promotion
In an effort to successfully promote a gardening business, it is essential to familiarize yourself with the different platforms available. Utilizing social media correctly can help you reach a large audience, expand your customer base, and create relationships with long-term customers for repeat business.
To begin, determine which social media platform works best for your target audience. For example, if you are marketing primarily to older adults and retirees, you may find success on platforms like Facebook or Twitter. On the other hand, if you are targeting younger adults and college students, platforms such as Snapchat or Instagram might be more beneficial. Additionally, consider using visual-centric themes in order to attract viewers: landscapes, close ups of plants or gardens in bloom are excellent ways to draw attention to your profile page. It also helps develop consistency in brand recognition as you start using certain filters and hues across each post—this creates familiarity with users and makes your posts stand out.
Secondly, make sure that your content speaks directly to your market. As a gardener, try adding helpful tips into posts about how to fertilize a garden bed or cultivate a lawn naturally; share photos of successful projects with picturesque backdrops; or incorporate humor into captions that match visuals from client's spaces fresh off of a garden transformation! The goal is provide enough useful information that customers enjoy following along with you throughout the season – this will establish trust within the marketplace while inspiring interest among potential new customers.
Don't forget that successful use of social media requires discipline: schedule time every week dedicated solely to creating quality content tailored specifically towards these platforms – whether it be posting regularly updated project photos or responding thoughtfully to followers' questions about their own gardens. Taking advantage of how intertwined both marketing and promotion has become through social media will afford far greater success in growing both visibility and sales for your gardening business than any print ad ever could.
Legal Considerations
If you are looking to start a gardening business, there are certain legal considerations that must be taken into account. In most jurisdictions, running a business will require obtaining a license after which current tax rules and regulations must be adhered to.
In order to remain compliant with local laws, it is essential to research the applicable licensing and tax requirements of your region. In addition, it is important to stay up-to-date on any changes or updates that may take place in insurance requirements or laws concerning conducting business, especially if your gardening business operates from multiple locations. Furthermore, seeking advice from an accountant or other professional financial advisor can help you ensure compliance with all relevant legal parameters.
Lastly, knowing the latest information on best practices in employing staff and establishing proper human resources protocols for your gardening company is also important when running a gardening business. Consulting with an experienced HR manager can provide helpful insight on how to structure policies for hire and promotion of employees in accordance with best practices and labor laws governing your state or country.
Financial Management
Financial management is a key element of running a successful gardening business. It is important to be organised and diligent when it comes to tracking your costs and expenses, as well understanding assets and liabilities incurred in the course of your operations. An effective cost-monitoring strategy should include record-keeping, analysis of expenses, forecasting, budgeting and inventory management.
Record-keeping: You will need to develop an effective system for recording all costs associated with the business. This includes not just the supplies you purchase or services rendered by contractors hired for certain tasks but also the time spent on each job so that overheads can be calculated correctly. This can be achieved through software such as spreadsheets or dedicated programs designed specifically for financial planning and monitoring. Additionally, invoices should be kept safely and filed away should any discrepancies arise in future.
Analysis of Expenses: On a regular basis review financial records with an eye towards trends in profitability or areas where additional expenditure may be necessary due to increase in demand from customers or clients. Doing this will help you identify any potential leaks in profits due to inefficient practices within the business or to root out unnecessary expenditures so as to maximise returns for yourself or shareholders.
Forecasting: While keeping track of past finances is important, looking ahead into the future will also help plan your spending effectively and determine whether your current operations are sustainable long-term considering unexpected costs such as changes taxes, new regulations on businesses etcetera that could incur unplanned costs at short notice which must be incorporated into forecasts.
Budgeting: Crafting budgets requires considerable skill – while spending rationally on resources is important, allocating too little money towards operations may result in skimped quality (which could damage reputation), while too much spending may result in poor profits; quite literally killing off the good work you've been doing such far by going over budget too often!
Inventory Management: Finally you should properly manage your stock levels – things like buying appropriate seed packets for exactly how much land you have under your maintenance contract can come down largely to individual discretion but having accurate records pertaining to cost per crop turnover will assist greatly in ascertaining profit margins from season-to-season.
Customer Service
Customer service is one of the most important aspects in running a successful gardening business. When clients hire your services, they expect quality results and professional support. Having an understanding of your client's needs, expectations, and feedback are essential to delivering exceptional customer service.
One key strategy for taking care of your customers involves asking them questions to get a better understanding of their particular needs and wants. Doing this will help you tailor your services more accurately as per their goals and preferences. Make sure that you conduct comprehensive interviews with each client before embarking on any job to ensure you're aware of all details related to their project from the outset. You should also ask for follow-up questions to gain an even deeper level of clarity about what it is that they want you to do for them.
You can also build strong customer relationships by effectively communicating throughout all projects. Ensure that each step taken during the job performance is clearly outlined and understood throughout its progress so that everyone involved remains on the same page. Regularly provide updates, photos or videos of work being done if possible so that clients can keep track of progress being made in real-time while also having something tangible they can refer back to provided periodic feedback is gathered correctly along the way as well. Taking care of even the smallest details like ensuring leaves and debris are cleared off walkways or patio areas after completion show that you take pride in delivering impeccable results every time which will be instrumental in growing your reputation as an outstanding gardening provider.
Opportunities for Growth and Expansion
The gardening industry offers business owners plenty of opportunities to expand and grow their operations. Gaining insights from successful competitors can help you stay ahead of the trends and identify what works in the industry. Consider studying their services, pricing strategies, marketing plans and customer service approaches to get a better sense of how you can expand your own operation.
One potential area for growth is providing more services for customers. Offer additional services like landscape design, seasonal maintenance or building custom plant containers. Additionally, explore unique blends of media for promotion such as digital advertising or social media campaigns that reach potential customers outside of your local area.
Being flexible with the business model is essential for gaining competitive advantage in the garden supply industry. For instance, if there is high demand for specific types of flowers or plants near you, consider stocking those items as part of your inventory so that customers will already find them available upon request. You can also hone in on niche markets to market specific products like organic gardening supplies or pet-friendly garden supplies. On top of that, consider providing organic soil and fertilizer as an additional option to offer a more sustainable product choice for consumers who are increasingly health conscious about their choices when buying gardening related products.
Finally, establish a strong online presence by offering online ordering options on your website or setting up shop at third-party sites such as eBay or Amazon Marketplace that may have more loyal customer bases than traditional retail outlets do. Utilizing both traditional and digital marketing techniques such as blogging or email campaigns will ensure that you attract enough attention to be relevant in the industry while tapping into new customer pools around the world. Keep up with the most recent digital trends so you remain competitive and make sure to adjust your business practices accordingly!
Conclusion
Running a gardening business can be both rewarding and profitable. Start by creating a comprehensive business plan that covers your target market, pricing model, marketing strategy, and any necessary legal entities or requirements. You will also need to have appropriate insurance for employees, groundskeeping equipment and materials such as soil, mulch and plants. When it comes to pricing your services, be sure to factor in labor costs, materials and any travel expenses that you may incur. Next, establish a solid reputation within the community by marketing your services and offering free advice on gardening topics whenever possible. Finally, ensure your success long-term by developing relationships with clients through quality work and customer care. Doing so will allow you to secure recurring contracts that lead to increased profits over the years. With enough preparation and hard work, you can find a great deal of satisfaction owning a successful gardening business!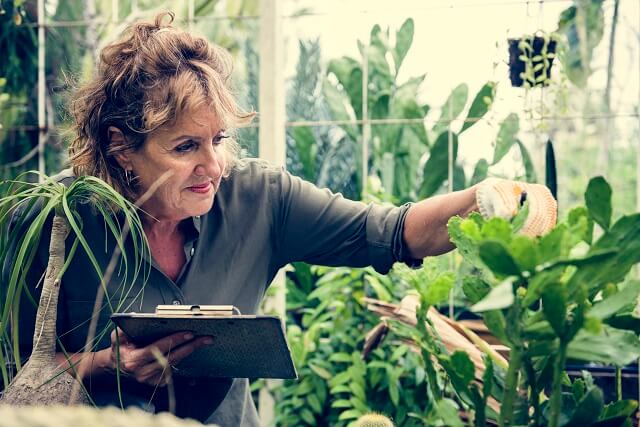 Welcome to my gardening blog! I am passionate about plants and enjoy sharing my knowledge and experiences with others. In this blog, I will write about everything related to gardening, from tips on how to get started to updates on my own garden projects.