Introduction
Creating your own gardening apron is a great way to protect yourself while gardening. It's also an easy project that will take little time and effort, but will provide years of enjoyment. Not only do you get the satisfaction of making something yourself, but you can customize your gardening apron with pockets and compartments to suit your needs — such as areas for pruning shears and gloves, or pockets for trowels and seed packets. It's also possible to create an apron that reflects your personality with fun colors and textures like gingham or cotton lawn. Gardening aprons make great gifts for anyone who spends time in their garden, from beginner gardeners to experienced green thumbs. With all these benefits, it's worth creating your own gardening apron!
Going beyond creating a basic, functional gardening apron there are so many creative features you can add depending on what type of gardener you are. For instance, if you prefer working with water-resistant materials then adding waterproof flaps would be ideal for keeping those items stored away during rainstorms or when watering plants. You could even use heavier duty fabrics or thicker straps if they are needed to bear heavier loads while working in the garden. Additionally, many people choose to add patches or designs featuring flowers or other nature-inspired motifs onto the material so they can proudly show off their custom work when out and about doing their gardening projects. No matter how adventurous you decide to get with your design, making a custom tailored piece is sure to provide countless hours of joy both in the making process as well as out in the garden itself!
Reasons to Make Your Own Apron
Making your own apron costs significantly less than buying an apron from a store. When you make it yourself, you have the opportunity to customize the shape, size and design of the apron to best suit your needs. You can make it with plenty of pockets so that you don't have to worry about cramped hands while gardening. With enough extra fabric, it's possible to add loops or ties so that tools stay within arms reach while working- no more having to look for forgotten items while already on your hands and knees! By having the freedom to choose which fabric will ultimately become part of the apron, you can also pick color and pattern what best complements your garden surroundings. The possibilities are almost endless when making your own apron!
Necessary Materials and Tools
To complete a gardening apron tutorial, there are several materials and tools that must be sourced in order to properly assemble the apron. Both synthetic and organic fabrics such as cotton or linen can be used for the apron. For the straps of the apron, double-sided webbing tape may work best. Additionally, shop owners should purchase thread, scissors and tailor's chalk for quick outlining of where to sew on fabric and straps.
When sourcing materials for a gardening apron tutorial, it is important to choose quality items from trusted brands. During research for webbing tape in particular, brands like Sunbrella and Grommet Mart should be considered since they are well-known in the industry for their strength and durability. Thread should always be high-quality all-purpose thread while simple black dressmaking pins can often be found in general stores or even large chain retailers. All these materials can usually be found online at specialty fabric stores or hobby shops depending on personal preferences. The right tools can make a huge difference when making anything; so careful thought should go into each product's purchase before assembling any sort of project like this one. With proper resources and clever craftsmanship, anyone should be able to successfully finish an apron they can wear time and time again during their gardening endeavors!
Step-by-Step Tutorial
Making a gardening apron is an enjoyable craft that anyone can do! This tutorial will provide you with a step-by-step outline of how to make an efficient and stylish apron for any yard work. The following supplies are recommended: fabric, thread, scissors, ruler, pencil or fabric marker, needle and pins.
First, measure the size of the person who will be wearing the apron. Lay the fabric out on a flat surface and use your measurements to draw two rectangles as large as necessary to create the back panel of the apron. Add 2 inches to each side of these rectangles to create smaller rectangles that you can cut into strips and use later in order to make ties for the neck loop and waistband.
With your fabrics laid out on top of each other, stitch along the edges of both rectangles — one long side, two short sides — leaving one long side unstitched so that you can turn it inside out later. Turn both pieces right side in through this opening and press them gently with an iron. Lastly, attach one end of each tie strip to their opposing side corners inside your sewn panels and then stitch around the three remaining open sides again; this creates both neck loops as well as straps for either armholes.
Enhancing Your Apron
Gardening aprons should not only offer protection to your clothes when tending to garden beds, but they can also be a great way to express yourself and customize an item of clothing. With some easy-to-find materials, it is possible to create a gardening apron with unique flourishes that make it stand out from the crowd.
One creative idea for enhancing a gardening apron is to add decorative patches. Patches can be found in fabric stores in various colors, shapes and sizes. The possibilities are nearly endless when choosing which patches go best with your one-of-a-kind design. For example, you could choose patches shaped like flowers or nature scenes to represent your green thumb, or stitch on patches of animals associated with gardening such as cats, bees, frogs and ducklings.
Another fun way to personalize your gardening apron is to select colorful ribbons and sew them along the edges of the front of the garment. Not only will this look great, but you can use iconic colors associated with gardening such as forest green and canary yellow. You might also try adding playful trinkets that ring true for your personality; consider charms such as gardening tools and mini wind chimes for charm that won't weigh down the apron too much.
Just don't forget: Everyone has their own style – you are free to choose any decorations that exhibit yours! So go ahead and step outside the box when decorating your gardening apron; if you ever feel stuck – rainbow colored buttons might just do the trick!
Finishing Touches
Adding a simple and professional touch to your gardening apron is not difficult. Here are some easy hacks that you can use to make it look more polished:
1. Choose quality materials: Invest in quality fabrics such as sturdy canvas, thick cotton, durable linen or waxed fabric for your apron. The fabrics should be strong enough to protect you from getting scratched while working in the garden, yet they should also be lightweight and breathable so you remain comfortable all day long.
2. Personalize it: Make your apron stand out with personalized touches like embroidery, screen printing or even patchwork. You can add customized labels, pockets or any other details to make it feel unique to you and enhance its appeal.
3. Create hidden pockets: Create handy hidden pockets on the interior of your apron by stitching extra fabric panels inside the hem or using string tab closures to keep small tools close at hand while gardening.
4. Finish it cleanly: Last but not least, double-stitching at all seams provides extra strength and durability for the apron, and makes sure everything looks neatly finished when viewed from the front side.
Conclusion
DIY gardening gear isn't just about being thrifty; it's also about celebrating the joys that come with creating something for yourself. Gardening aprons, in particular, are a great way to organize your supplies and make sure you're looking stylish and put-together while engaging in your favorite hobby. The tutorial above outlined all the steps necessary to transform a beloved old piece of clothing into an amazing gardening accessory. However, if sewing isn't really your thing, you can always opt for one of the many ready-made options currently available on the market or even customize someone else's design with fun fabric patches or appliques! You can even go the extra mile and use different materials to create other pieces of garden gear, like tool holders for easy access or bootscrapers so mud isn't tracked inside. Hopefully this tutorial has inspired you to start exploring more DIY projects both in and outside of the garden—Happy crafting!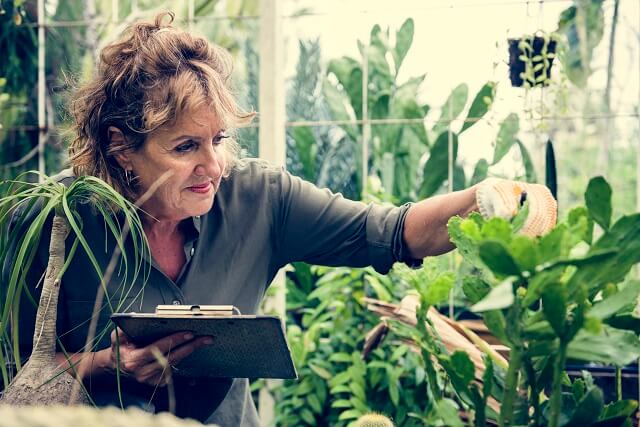 Welcome to my gardening blog! I am passionate about plants and enjoy sharing my knowledge and experiences with others. In this blog, I will write about everything related to gardening, from tips on how to get started to updates on my own garden projects.