Introduction
Gardening franchises provide a valuable service to homeowners, rental and investment property owners, condominium associations, and business districts. They specialize in landscaping, property maintenance, tree trimming, lawn care and hardscaping design. Franchises serve both residential and commercial customers with a variety of services including lawn mowing, weeding/edging services, aeration/ overseeding services and mulching or planting new grass or plants.
In addition to landscaping initiatives, gardening franchises assist customers in storm clean up or other emergency services such as the removal of fallen trees and branches. With the right training and experience this type of franchise will also provide soft-scape services such as stone pathways and patios, irrigation installation , all types of fencing installation , water feature construction (fountains) , fire pits & fireplaces construction , decks building , garden design , outdoor kitchen design/installation , stone retaining walls and walkways paving.
Gardening franchise packages also typically include seasonally appropriate advice related to lawn care techniques that entail fertilizing your lawn to ensure proper growth as well as using various tools like sprinklers for optimal watering output. Furthermore they offer quarterly checks for any emerging pests or diseases that may effect plants on the property.
Reasons for Starting a Gardening Franchise
One of the main reasons why someone might want to start their own gardening franchise is because of their love for gardening. People who have a passion for plants, flowers and shrubs often find it fulfilling to create and maintain beautiful outdoor spaces with their knowledge and enthusiasm. Additionally, gardening can be a fun, creative and rewarding experience that brings joy not only to the property owner but to the entire neighbourhood as well. Furthermore, being able to start your own business based on something you love can be very satisfying financially and emotionally. It can also provide an opportunity to make an impact within your local area while simultaneously building up a customer base that will continue to come back time after time. Lastly, owning your own business has the potential for great financial rewards, allowing you to earn money while doing something you are passionate about.
Tips for Getting the Most out of Owning a Gardening Franchise
1. Develop a strong understanding of the gardening industry: Before you commit to owning a gardening franchise, it is important to gain an adequate understanding of the industry. To be successful as an owner, you must know the ins and outs of different types of plants, care instructions for various climates, and pest control methods for maintaining healthy gardens.
2. Remain open to new ideas: Owning a gardening franchise means that you are in charge of creating success from your business ideas. Keeping an open mind to new strategies that can take your business to the next level can help you achieve your financial goals faster by anticipating trends and introducing innovative products or services that appeal to customers in your area.
3. Network with other industry professionals: When operating a gardening franchise, networking is essential in order to keep up with industry changes as well as find potential markets for your products or services. Connecting with others in the same space through local associations or forums can help open doors to potential contacts which could lead to future collaborations.
4. Invest in marketing and advertising: Setting aside resources for marketing and advertising will pay off later by bringing in more customers who are interested in learning about the services provided at your gardening franchise location. Developing eye-catching signs, brochures, and digital content such as social media campaigns can help spread awareness about your business's offerings leading up to higher profits over time.
Common Challenges of Starting a Gardening Franchise
One of the common challenges of starting a gardening franchise is securing adequate financing to cover start-up costs. While franchisees usually receive some financial assistance from franchisors, they may need to secure additional capital through a combination of personal savings, loans, and investors. Additionally, some background in landscaping or gardening is usually preferred, although special training may be provided by the franchisor. Another challenge when it comes to opening a new franchise is finding a suitable location that meets the zoning requirements for professional gardening or landscaping services. Franchises typically need to have relatively large outdoor spaces to fit their storage needs and also require close proximity to their customer base. Building customer loyalty and gaining repeat business can also be difficult depending on the size and location of the markets. Lastly, stocking up on tools, equipment, and supplies can be expensive in order to complete jobs efficiently and effectively so entrepreneurs should factor this into their budgets when getting started.
Important Questions to Ask When Choosing a Gardening Franchise
1. What support and training does the franchisor provide? It's important to inquire about the type of training and support that the franchisor provides their franchisees. Ask if they provide in-person guidance on how to improve your business, access to independent contractors who can help with landscaping and gardening needs, or other resources such as discounts on products and services needed for operating a successful business.
2. What are the ongoing fees associated with operating a franchise? In addition to any startup fees associated with purchasing a franchise, it's essential to inquire about all ongoing costs involved with running a successful business. These fees may include monthly royalty fees, travel expenses for attending training sessions, or additional fees for marketing purposes. Be sure you are fully aware of all expected costs before making a commitment.
3. Is this a good fit for my market? Different areas require different types of landscaping and gardening services, so ask questions about what specific strategies the franchisor suggests using in your area when creating your own unique business plan. Speak to existing franchise owners within your market as well to get a better idea of how their businesses have fared locally.
4. Does this franchising opportunity provide any exclusive offers or benefits only available through them? Franchises typically offer exclusive offers and special promotional programs unique to their system that can help differentiate you from competitors in your area including discounts on equipment, supplies and more exclusive service levels provided by the franchisor himself/herself or other franchises related companies. Make sure these are properly described before signing anything final!
What Does It Take To Operate a Successful Gardening Franchise
Operating a successful gardening franchise requires a combination of hard work, dedication and business savvy. A successful franchise owner must be able to successfully manage employees, as well as manage finances. They should also have a strong working knowledge and passion for landscaping, plants, and other related activities. In addition to the obvious financial considerations when owning a franchise, the individual must be able to handle various aspects related to designing gardens which may include: soil preparation, planting schemes and irrigation systems. Knowledge and experience with plant fertilization, pest control and gardening trends are beneficial. Having experience in marketing, accounting and customer service will go a long way in aiding the success of the franchise. Ultimately it is important that the franchise owner be passionate about the business they are running in order to be successful.
Advantages of Investing in a Gardening Franchise
Gardening franchises come with several advantages for the franchisee. Firstly, franchisees don't need to create a whole new business from the ground up as it has already been developed by the franchisor. They receive an established reputation and customer base, which helps ease into the business with your own customers right away. The franchisor provides marketing advice to ensure you can develop your clientele quickly and remain competitive in the marketplace. Additionally, franchises often offer operational and financial guidance to help manage costs and boost profits. Lastly, the strength of being part of a larger company can provide access to better buying terms when it comes to supplies and equipment that may not be available with other businesses. These benefits make gardening franchises a wise investment for many aspiring entrepreneurs.
Tips on Finding the Best Gardening Franchise Opportunities
When looking for the best gardening franchise opportunities, a key consideration should be the franchisor itself. It is important to find one that is experienced, has a good reputation, and understands the industry you are in. Ask lots of questions to learn more about the franchisor's background, training programs, and support services they offer. Also make sure to investigate their customer service track record as well as any customer feedback on the franchise's products or services.
In addition to researching potential franchisors thoroughly, also consider what type of franchise model you would like to launch. Consider if you should go for a traditional physical storefront setup or an online business as either option can prove highly lucrative in the right circumstances. Once you have identified your preferred franchise model it's a good idea to look into financing options and calculate how much capital you will need in order to get started.
Furthermore, always keep an eye open for other opportunities that could help reduce startup costs – such as existing supplies and machinery which could be purchased at a discounted price from previous owners or other suppliers. Doing enough research in this area can save money down the line which may make all the difference when it comes to profitability over time. Finally, ensure that you fully understand any legal obligations associated with running a gardening business before committing to anything and make use of professional advisors who understand your local laws and regulations relating
to business ownership where applicable. Taking all these steps will give you the best chance of finding a successful gardening franchise opportunity that meets your criteria and needs perfectly!
Closing
Starting a gardening franchise has many benefits that make it an appealing opportunity for individuals looking to get into the business. One of the primary benefits is that you have the backing of a well-established company and brand, which comes with built-in brand awareness and recognition. You also benefit from having access to franchisor's research, marketing materials, operational processes, support networks and advice. Starting a gardening franchise also mean less operational complexities compared to setting up a traditional business from scratch since most franchisors will provide you with training and ongoing support when it comes to advertising, hiring staff and other related areas. By choosing to invest in a gardening franchise, you will be able to tap into potential new markets as franchises typically already have relationships with landlords, builders or even service providers such as gardening companies or florists. As such, there is potential for rapid growth as the initial setup costs are relatively low. Finally, franchisors can offer financing options so that you do not have to put upfront down payments on equipment or property leases — allowing you more time to focus on growing your business. Overall, investing in a gardening franchise is a great choice for anyone looking for significant advantages compared with starting their own independent business from scratch.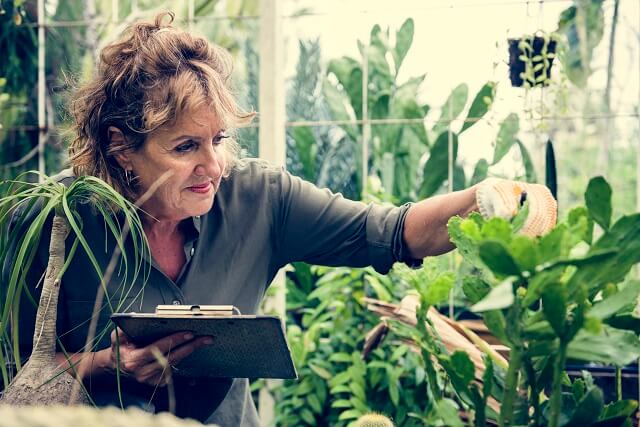 Welcome to my gardening blog! I am passionate about plants and enjoy sharing my knowledge and experiences with others. In this blog, I will write about everything related to gardening, from tips on how to get started to updates on my own garden projects.