Introduction
Kevin Espiritu is the founder of Epic Gardening, one of the leading digital gardens in the world. His passion for plants and gardening began at a young age, as he often spent time exploring various nurseries. Through his website and YouTube channel, Kevin has provided gardeners of all skill levels with helpful advice on how to get started and nurture their own gardens. He's also written several books on topics related to indoor gardening, such as organic plant care and hydroponics. In addition to providing his resources online, Kevin is also the owner of Plant Science Supply Co., an online store that stocks everything from soil amendments to rare plants. Those who follow him know him as an advocate for sustainability and promoting a healthier lifestyle through gardening — he even maintains a blog where he focuses on these topics! With his passion for plants, knowledge of different care regimens, and ability to connect with others in the gardening community, it's easy to understand why Kevin is so successful in this field!
Kevin's Path to Gardening
Kevin Espiritu, founder of Epic Gardening, was not born a gardening expert. In fact, he never studied horticulture or agriculture in school. That hasn't stopped him from becoming an incredibly well-known member of the gardening world. After leaving college and getting various jobs in retail and tech, Kevin found himself wanting more. He started growing plants as a hobby at home to amuse himself and provide an avenue to become closer to nature – something he had been missing since leaving school.
At this point in his journey, Kevin took it upon himself to begin documenting his travels with plants on YouTube. His effort gained traction with people from around the world who began asking for advice and wanted more information on how they too could simulate some of Kevin's success. Soon enough, Epic Gardening was born!
Since then, Kevin has made numerous TV appearances around the United States providing insight into the life of a gardener and has shared advice on topics ranging from vegetable gardens to urban farms. He continues to host conventions such as BlogPaws while offering consultations with individuals and businesses looking to start their own growth projects that don't require green thumbs but just elbow grease and a willingness to learn. His hit podcast also helps put all levels of gardeners on the right track, along with gaining new knowledge about plant care, disease prevention and other gardening tips that are continually discussed within his community.
It is clear that although Kevin wasn't born gardening experts, he certainly became one through trial-and-error process accompanied by plenty of dedication throughout his journey. His passion for gardening led him to gain insights from applicable professionals helping him further expand his skill set and share it with others seeking similar guidance in their lives through social media channels such as Youtube or through audio experiences like his popular podcast show. The lessons learned have provided resources for those starting out and would ultimately lead even veteran listeners with useful information about plant care or gardenside problem solving solutions when needed most! Thanks to Kevin Espiritu's remarkable journey we now all have access to an incredible amount of information without ever leaving our homes.
Epic Gardening's Mission
Epic Gardening is a gardening blog created by Kevin Espiritu in 2013. After many years of working as a professional landscaper, he decided to pursue his dream of creating an online community focused on helping people learn the art of growing their own food and plants. At its core, the mission of Epic Gardening isn't just about getting people hooked on an enjoyable hobby – it's about transforming the world one garden at a time.
With sustainability being a major factor in how we live our lives today, enthuisasm for growing one's own food and plants has become increasingly popular. Kevin saw this opportunity and leveraged it to create Epic Gardening; he believed that if more people grew their own gardens they could reduce their overall resource consumption. The blog quickly began to grow in popularity as readers were exposed to knowledge to help them become self sufficient gardeners – a goal Kevin had long championed.
In addition to providing educational content on gardening techniques and advice, Kevin promotes sustainable practices such as composting, mulching, and water conservation methods. More than this though, he also uses his platform to share tips and tricks on upcycling materials into planters or beds and other DIY projects so that everyone can get involved in green living even with limited resources or space. Aspiring gardeners can also find how-tos on plant varieties from greens and herbs to fruits and flowers so that anyone can start building their own edible garden with success!
Through his efforts pushing for more education about self-sustained living through Epic Gardening, Kevin is able to continue advancing the mission of promoting environmental stewardship around the globe. His ultimate vision is that someday everyone would have access to the tools and knowledge needed for urban farming – producing healthier food for communities all over with better access for more families than ever before
The Values that Fuel Epic Gardening
Kevin is a passionate gardener and the founder and head of Epic Gardening. He believes that growing and working with nature helps people discover their true potential. He believes that everyone should be able to access nature's resources for nutrition, physical health, relaxation, spiritual growth, and connection with others. His mission is to make it easier for people to access these natural benefits through gardening knowledge and products.
To achieve this mission, Kevin has developed his own set of values to live by: respect the earth, appreciate diversity, practice sustainability, give back to our communities, and empower others. These values help him ensure that all facets of Epic Gardening adhere to the principles of ethical and sustainable practices.
For instance, Kevin only sources materials from suppliers who utilize sustainable methods of production so that they don't impact the environment detrimentally. When he sources plants or seeds from a nursery or supplier he always makes sure that their practices are up to par. In addition he continues to find ways to bring back nature into urban spaces through green initiatives such as teaching urban farming or donating soil to local gardens in need. Moreover, Kevin has created a platform for gardeners everywhere to share knowledge about cultivating edible plants so everyone can learn how make the most out of their space no matter what size or shape it may take on! Finally, he looks for opportunities where Epic Gardening can partner with other organizations in order to support those living with greater challenges than his own when it comes to accessing natural resources.
Epic Gardening Today
Founded in 2014 by Kevin Espiritu, Epic Gardening is a platform dedicated to bringing accessible, enjoyable gardening to everyone. Kevin started the platform when he was unable to find reliable and comprehensive information about gardening techniques that worked for people with busy schedules. He recognized the widespread need for simple and effective gardening advice, and thus Epic Gardening was born.
Through their website, social media, books, ebooks and podcasts, Epic Gardening provides helpful resources for gardeners of any experience level. In addition to providing innovative content on topics ranging from fertilizers to edible architecture landscaping, they also run popular "Plant of the Week" livestreams and sell an array of gardening tools in their online store. Epic Gardening has gained over half a million followers who rely on them as an authority on urban farming and other horticultural needs.
Kevin Espiritu's dedication to making gardening more enjoyable has been a success with millions of visitors worldwide visiting Epic Gardening's site every year. His ability to generate high quality content that engages readers with easily understandable explanations based on his own research showcases a modern example of how small investments can produce massive results – establishing a major source for amateur gardeners one step at a time. The fruits of his labor have helped people who aspire to become self-sufficient through growing crops or keeping excessive amounts of plants alive despite having limited space available or knowledge about various types of species. This success helps drive communities towards increased productiveness overall and creates awareness about the food production process which leads to more mindful consumption habits as well as better understanding of modern agricultural requirements for sustainable growth overall.
What Makes Epic Gardening Unique
Kevin From Epic Gardening is an online platform founded by Kevin Espiritu that offers gardening enthusiasts an array of educational resources and products to help them create the perfect garden. With Epic Gardening, users can explore a wide range of how-to guides, blog articles, podcasts and videos to not only learn the basics but also get more in-depth access to information and advice. Beyond teaching people how to garden, Epic Gardening is dedicated to helping users do so sustainably and equipping them with tips for creating their own self-sufficient gardens.
On top of its comprehensive education section featuring regularly updated content from guest writers and experts, Epic Gardening also offers a store with products such as fertilizers, tools and seeds made from natural sources. Customers can also purchase meal subscriptions for recipes with ingredients sourced directly from their gardens. Moreover, Epic Gardening boasts a bustling community with forums where users are encouraged to share information about plant care tips or give other members advice on maintaining their own gardens.
These core elements set Epic Gardening apart from similar platforms as it goes beyond simply providing information about gardening. Rather than just offering tips on what plants to purchase or how to grow a certain vegetable variety, it presents materials around sustainability and empowers users with answers they need while providing access to excellent quality product selection that promote resilient gardening practices. In addition to its holistic approach towards cultivating healthy gardens, Kevin's experience exploring urban agriculture allows him to bring valuable perspectives into the world of gardening that make it stand out among other similar platforms.
Looking Ahead
As Kevin and Epic Gardening progress into the future, many exciting changes and opportunities will present themselves. From developing new products to expanding its customer base, Epic Gardening is primed for great success in the years ahead.
At the core of Epic's vision is sustainability — a commitment to not just meet customers' needs today, but to build a model that will lead to long-term success for all stakeholders involved. This means everything from upcycling materials and reducing waste to partnering with companies who share similar values. Kevin plans to continue staying on top of emerging trends in gardening technology as well as finding ways to make the process easier, more efficient and less expensive for everyone involved.
The future also includes opportunities to offer access to gardening information around the world through various platforms such as online tutorials and instructional videos — providing the tools needed educate people on how they can create their own sustainable gardens. The anticipation is that with increased education more people will be inspired by their own passion for plants and nature, furthering Epic Gardening's impact on global communities and beyond.
Summary
Kevin Espiritu founded Epic Gardening in 2013 after feeling dissatisfied with his corporate job. His daily vlogs and weekly articles were inspiring to thousands of gardeners looking for solutions to their gardening problems all over the world. He earned a following of over 1.5 million followers before passing away in 2019, leaving behind an impressive legacy of teaching others how to garden and grow their own food. His gardening advice was always practical but also included valuable ideas from his extensive research on organic methods, which he publicised in everything from books and online resources to live events like the Garden Reboot Summit. Today, Epic Gardening continues to thrive thanks to Kevin's influence, bringing wisdom and knowledge about growing food sustainably with videos, how-to guides, product reviews, and more. Thanks to Kevin's lasting impact on the site and beyond, Epic Gardening will continue to enhance home gardens worldwide while also promoting healthy eating habits that help fight disease.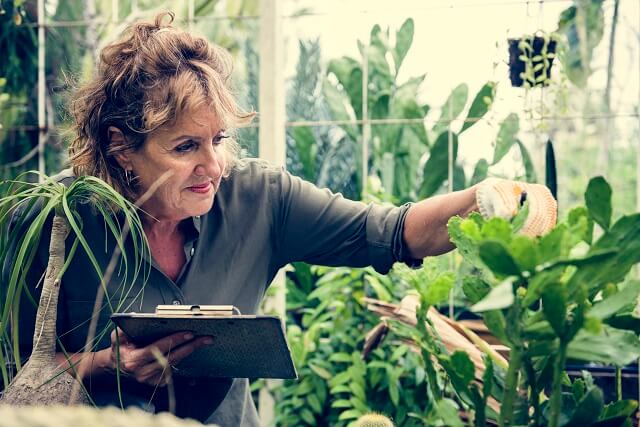 Welcome to my gardening blog! I am passionate about plants and enjoy sharing my knowledge and experiences with others. In this blog, I will write about everything related to gardening, from tips on how to get started to updates on my own garden projects.